Services

When you choose to do business with Oklahoma Liquefied Gas..


You can feel confident in our reliability, professionalism and safety. Our seventy-plus year history says it all!
Products

When buying LPG appliances, you can trust the quality of the products we sell..

We carry only the best LPG appliances available. Our Service Techs are experts at installation and service. Whether you are looking for gas logs, ventless heaters or temporary heating solutions, we have a wide selection from which to choose.

For more detailed information of the products we carry, ...

Events & News
• Alternative Fuel Vehicle Conversion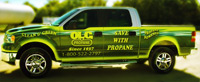 Yes!   We can convert your existing, gasoline powered vehicle to run on one of the cleanest alternative fuels available - PROPANE. You can choose to either convert your vehicle to run solely on propane or dual-fuel, where your gasoline system is still operational and with a simple flick of a switch, you can revert back to gasoline.
read more »

TOLL FREE 1-800-522-2797

You are visitor number

Safety Tips

Cylinder Storage

Propane tanks should be stored outside. Do not store any propane tanks in the garage or any other indoor areas at any time, even during the winter months. As for excessive heat, propane tanks should only be filled to 80 percent of the tank's capacity. This is to allow for some liquid propane expansion that might occur during hot days.